The Even Better Project was thought with the aid of teaching emotions and social skills to children with Asperger and other disorders on the autism spectrum (ASD), through the a collection of educational computer games. It will provide anyone who works with autistic children with a valuable tool to aid their first contact by reducing the usual initial resistance children put up during assessment. It can also teach them different skills.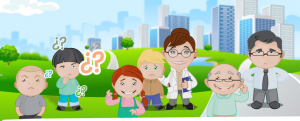 But not only Asperger/ASD kids can benefit from the games and content of the Even Better web page, but also other people who may have difficulty in recognizing emotions such as cognitive disabilities or even adults whose disorders involve loss of facial recognition, like Alzheimer and Parkinson, etc.
You will find 4 games, all of them avaliable in English, Spanish and French:
"Our emotions": Discover how to recognize the most important emotions of Leo and his friends playing this game.
"Each person with its match": Look very closely at the faces which appear on the screens and drag the right ones for each emotion you see
"Dissapear", a game for distinguishing one emotion from another, when you touch the right faces , they disappear.
"Emotions roulette": you will spin the wheel, and guess the emotion, then you will see some possible situations and you will have to answer on which situation you feel one or another emotion.
For more information, visit their website: http://www.czpsicologos.es/evenbettergames/juegos.php